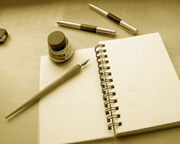 hey guys! its Skye again. i was encourage to do another riting comp. so here it is.
1. anyone can enter with anything. ,poems.song,storys,short storys, scenes ect
2you cant enter ans many things as you like.
3. make sure you read it though before posting.
4. you MUST put a link to it as a comment otherwise it will NOT be counted.,
5. it must be put as a page on here.
GOOD LUCK!
Skye
p.s if you have any questions please feel freee to ask
p.s the deadline is 27th of augest
TIME TO ANOUNCE THE WINNER!!!!
1. http://youngwritersclub.wikia.com/wiki/User:WriteForever! with http://youngwritersclub.wikia.com/wiki/The_Death_Inside
winner 1 beacause. its an AMAZING peom! i really enjoyied it!...kinda dark but hey? who said you have to make it happy? so great job!
to anyone that didnt place its not because i didnt like it. i enjoyied them all/ but it must be narrowed down! and if your contest enrty was'nt in the comments it was'nt considerd. so ILoveRedPoodles. im not sure if you eneterd or not? anyways congrats to the winner! Let me know if you guys want another one
Ad blocker interference detected!
Wikia is a free-to-use site that makes money from advertising. We have a modified experience for viewers using ad blockers

Wikia is not accessible if you've made further modifications. Remove the custom ad blocker rule(s) and the page will load as expected.