Need a word that
isn't
"good" or "bad?" Check here! Add your own!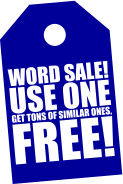 hilarious
humorous
laughable
silly
absurd
amusing
hysterical
witty
terrific
amazing
fantastic
admirable
exceptional
favorable
positive
excellent
auspicious (lucky, favorable)
spastic
unpredictable
arbitrary
irregular
aimless
unplanned
Ominous
Spooky
Creepy
frightening
terrifying
alarming
bloodcurdling
chilling
eerie
horrifying
intimidating
unnerving
terrible
atrocius
awful
beastly
evil
crappy/cruddy
dreadful
lousy
poor
unacceptable
Beautiful
stunning
gorgeous
mindblowing
attractive
charming
handsome
divine
cute
glamorous
fabulous
elegant
Ad blocker interference detected!
Wikia is a free-to-use site that makes money from advertising. We have a modified experience for viewers using ad blockers

Wikia is not accessible if you've made further modifications. Remove the custom ad blocker rule(s) and the page will load as expected.