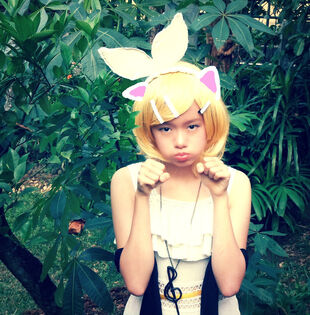 'Kagamine Rin is my character for a lot of my stories as she is from VOCALOID and she is going to be my main protagonist!
Outward appearance
Edit
blond hair
blue eyes
wears headband
wears shorts and a traditional Japanese school uniform unless in Synchronicity where she wear white dress (see image) or Puppet of This War where she wear a red short kimono like dress, long white stockings and a long white laboratory coat.
She was born in Fukina, Japan (unless stated in story) and she was raised with her parents until the age of three when her parents die (unless stated in story). Her sibling is Len and she enjoys his company. In some events they are not siblings but lovers.
Ad blocker interference detected!
Wikia is a free-to-use site that makes money from advertising. We have a modified experience for viewers using ad blockers

Wikia is not accessible if you've made further modifications. Remove the custom ad blocker rule(s) and the page will load as expected.