Ellie Whitefire

Age

18

Occupation

Queen of Icefire

Home

Kinglands

Gender

Female

Fate

Alive

Spouse

Finn Riverlove, King of Icefire

Children

None

Birthdate

May 2

Appearances

Rivers Apart
Biography
Edit
Ellie Shaila Whitefire is a kind and generous young lady whom many admire. She has a cheerful spirit, and is very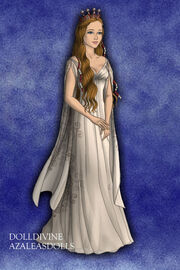 intelligent and knowledgeable. She has a liking for reading and learning, and enjoys the presence of people.
She is betrothed to Finn Riverlove, and very much loves him, almost as much as her brother, Atticus. She enjoys warm days with breezes, and sleeping. 
She has golden hair, and blue eyes, and a fair complexion, and is the desire of many men who will never have her. She has a lovely smile, and is very kind with most people, but has a bad side, and a temper, but she knows how to control it. 
At age 18, her family was murdered by someone whom she does not know the identity of. On that day, she became the Queen of Icefire, but that will not be made official until her coronation.
TBC
Ad blocker interference detected!
Wikia is a free-to-use site that makes money from advertising. We have a modified experience for viewers using ad blockers

Wikia is not accessible if you've made further modifications. Remove the custom ad blocker rule(s) and the page will load as expected.